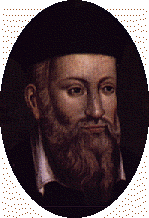 Nostradamus

Born Michel de Nostredame in St. Remy, France on December 14, 1503. He was married for the first time in 1534 and very shortly thereafter he lost his wife and two children to the plague. From that point on in his life Michel de Nostredame dedicated himself to fighting the plague and history remembers him as the most successfull doctor to do so in his era.
In 1554 he married Anne Ponsart Gemelle in town of Salon, France. The focus of his work at this time began to change and he started to dedicate his time to the composition of some very strange and cryptic four line verses called "quatrains". In 1555 Nostradamus published his first set of 100 quatrains. These sets became known as "Centuries".
Nostradamus Died on July 2, 1566 leaving a legacy of unresoved riddles and some very disturbing prophecies.