Elven Poem
© 1998Lana Stanford & L.C.White




Morning dew drops
glisten in the sun
as the elves line up
one by one.
They are laughing merrily
at the happy sight
of bathing in the dew
Under warm sunlight.
Singing as they don their suits
little caps and tiny boots
Setting out to start their day
waiting for the time to play
Over the hills
and tiny dales
gathering berries,
in tiny pails.

Sipping dew drops
under a tree,
dainty fingers
making mulberry tea.

Dusk has come
and the elves unite
to laugh and sing,
and greet the night.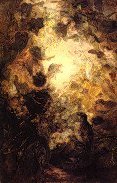 Tis time for fun,
dancing and playing
sharing in harmony,
at the end of the day.